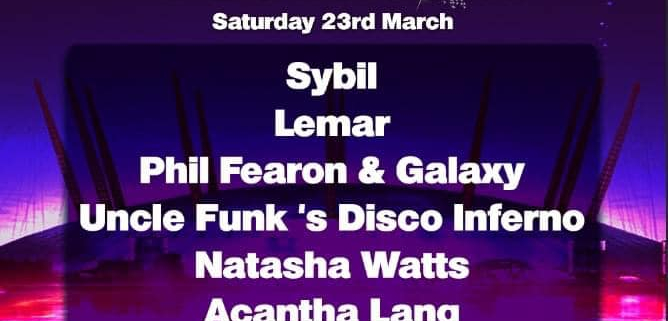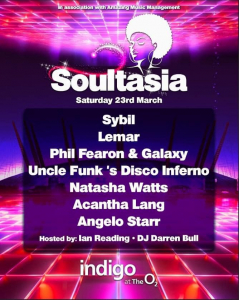 SOULTASIA returns to Indigo at the O2 for it's third phenomenal year with six live acts plus DJ's. Doors are open from 4.30 pm – an indoor festival to dance the day and night away.
Back in London with a brilliant line up of some of the best ever performers of Soul and Disco plus stars of the future. Soultasia is the fastest growing festival chain in the United Kingdom providing live performances from the world's finest!
SYBIL
LEMAR
PHIL FEARON
UNCLE FUNK'S DISCO INFERNO
ACANTHA LANG
NATASHA WATTS
ANGELO STARR
HOST:IAN READING with DJ:DARREN BULL
About the artists …
Sybil
American R&B and pop singer/songwriter Sybil – is from Peterson, New Jersey – and is best known for a string of hits and albums in the late 1980s and early 1990s. She released her debut single "Falling in Love", which reached Number 29 on Billboard's R&B Singles chart in 1986. Her debut album, Let Yourself Go, was released in 1987 and charted in the Top 100 in the UK. The title track reached the Top 50 on the U.S. R&B chart. Her second album, Sybil (1989), featured her cover versions of Dionne Warwick's "Don't Make Me Over" and "Walk On By", which were both international hits.
The album rose to Number 12 on the Billboard R&B Albums chart, her highest album chart position. The album was retitled Walk On By for release in the UK. Sybil's 1993 album Doin' It Now! contained the UK Number 3 hit "The Love I Lost" in North America and Good 'N' Ready in Europe. While sharing four songs on their track listing, Doin' It Now! has a more R&B/soul sound, while Good N' Ready mixes her soul sound with Stock and Waterman.
Lemar
Lemar – singer, songwriter, record producer and actor. He has released 7 studio albums, three of which are certified platinum or double platinum by the British Phonographic Industry (BPI). Lemar has won numerous music awards including 2 x Brit Awards for Best Urban Act in 2004 and 2006 and 3 x Mobo Award for Best Album, Best Male and UK Act Of The Year in 2005 and 2006.
Chart hits included: "Dance (With U)", "50/50 & Lullaby", "Another Day", "If There's Any Justice", "Time to Grow", "It's Not That Easy", "The Way Love Goes".
Phil Fearon
Phil Fearon is an English singer-songwriter best known for being the leader of the Galaxy group. Artist who was born in Jamaica and emigrated at the age of 5 to England with his parents. He began his artistic career at the end of the 70s with a group called Kandidate, which had its heyday with the title "I don't wanna lose you" in 1979.
As for the Galaxy adventure, it began in 1982 with the release of the title "Head over heels", a title which brought the group its first major success. A success that will be confirmed and especially amplified with the release of the single "Dancing tight" a year later in 1983 – the band's flagship title song. He went on to have chart success with "What do I do?", "Everybody's Laughing" and 'This Kind of Love'.
Phil went onto have major solo success with "I can prove it", a track put together by the hitmakers Stock Aitken & Waterman.
Uncle Funk's Disco Inferno
Established in 1997, Uncle Funk's Disco Inferno are the UK's top live disco band, regularly booked for Glastonbury Festival and many other huge events.
Uncle Funk's Disco Inferno are the world's undisputed number 1 live disco band. Featuring fire effects, acrobatics and the incredible Disco Inferno band, Uncle Funk's Disco Inferno show is an amazing energetic, choreographed tribute to the greatest era of music – DISCO!
Acantha Lang
New Orleans-born (now London-based) rising Soul artist Acantha Lang released her anticipated debut album 'Beautiful Dreams' in 2023 and it reached number 3 on the Official Jazz and Blues Albums charts. 'Beautiful Dreams' arrives on the heels of some huge achievements for Acantha. She recently had her US TV debut on the acclaimed CBS Saturday Morning show, where she performed three tracks from the album to over 3 million+ viewers.
A steadily burgeoning career songwriting for the GRAMMY-nominated Robert Randolph and earning endorsements from legends like Joe Bonamassa, Robert Elms, and noted tastemaker Craig Charles (BBC 6Music Funk & Soul Show / BBC Radio 2) who distinguished Acantha as "brilliant… an independent artist destined for world domination" in the liner notes of his recent compilation album The Craig Charles Trunk of Funk Volume 2.
Acantha moves from strength to strength. In 2021, she was awarded 'The New Artist of the Year Award' (Soul Tracks Readers' Choice Awards) & 'Blues Artist of the Year Award' presented by Jools Holland (Boisdale Music Awards). She was accepted into the Recording Academy's (Grammy) 2022 member class and her single "It's Gonna Be Alright". Her music has over 1.6 million streams and has been playlisted on top Spotify playlists including earning a spot on Spotify's Best Retro Songs of 2021 and Best Funk Songs of 2022 playlist. Her social media live performances have tens of millions of views where she brings together musical elements of Nina Simone, Aretha Franklin and Joss Stone.
Natasha Watts
Natasha Watts remains an influential force in soul music, with an extensive discography and a reputation for delivering emotionally charged performances. Her dedication to spreading the message of love, self-empowerment, and unity through her music has left an enduring legacy. Her journey from a budding artist in 2010 to a celebrated soul performer in 2023 serves as a testament to the power of unwavering passion and an indomitable spirit in the world of music.
Natashas' song " Love who you are " from the album "2nd Time Around" earned her the title of 'UK Soul Artist of the Year' at the UK Soul Survivor Awards. Natasha's musical journey has continued to evolve, incorporating elements of jazz, funk, and disco while remaining rooted in the soulful groove.
Angelo Starr
From the USA Angelo Starr younger brother of the late great Edwin Starr. Angelo performs all The Edwin Starr Hits from the era's S.O.S (Stop her on Sight), 25 Miles , Agent O-O Soul. WAR , (Eye To Eye) Contact, Happy Radio & Time Plus Motown, Soul & Disco covers including ' Superstition' ' Higher & Higher 'Get Ready ' Dancing in the street' and loads more favourites.